Hello, everyone Today I am going to describe Top 10 Traditional Maharashtrian Food And Dishes. Hope you like this one. So can let's start.
India is a country rich in culture and, more importantly, in delectable food. From the highest point in Jammu and Kashmir to the farthest point in Kanyakumari, India is proud of the wide variety of foods that each cuisine offers. This essay's "state in focus" concerns Maharashtrian cuisine. Maharashtrian cuisine has a lot to offer, from the delectable poha to the iconic pav bhaji. Konkan and Varadi are the two basic categories into which Maharashtrian dishes can be divided. Since Konkan is a coastal region, it has been influenced by the Goan, Gaud, Saraswat and Malvani regions. The Vidarbha region is home to the cuisine known as varadi.
The Maharashtrian cuisine, Maharashtrian breakfast, Maharashtrian snacks or Maharashtrian dishes depend on spices like Goda Masala, Tamarind, and Kokumand Coconut. Due to regional variations in flavours and spice intensity, Maharashtrian cuisine is regarded as being quite diverse.
Here is a list of the top 10 traditional Maharashtrian food and dishes:
Pav Bhaji

Vada Pav

Puran Poli

Missal Pav

Modak

Ragda pattice

Bharli vangi

Sreekhand

Poha

Sabudana khichdi
#PavBhaji: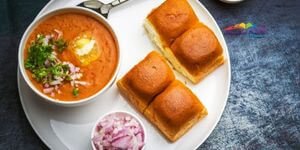 The Pav Bhaji, one of the most popular Maharashtrian meals, is what the Marathi people crave. Indians and Pav Bhaji have an unspoken understanding that can only be comprehended when the mouth-watering flavours of Pav Bhaji make their way to the tip of your tongue.
#Vadapav:
Vada Pav is frequently referred to as the burger of India. A hot mixture of spices and salt is placed between the vada (patty) and pav (bread), and a fried, salted green chilli is used as a garnish. It seems ideal, isn't it? It is a staple meal and a huge hit with Maharashtrians. It is very affordable, filling, and convenient. The Bhajiya Pav is another well-known variation that uses batter-fried onions in place of the patties.
#PuranPoli:
The loving parantha has a sweeter counterpart in this delicious cuisine item. Jaggery (gur), plain flour, yellow gramme (chana), cardamom powder, and ghee are used to make the stuffing (clarified butter). It is a favourite meal for festive events and is also suitable for any time of day. No one needs to give you permission to eat a delicious dessert! The sweet filling is referred to as Puran in Marathi, and the exterior bread is referred to as poli. Despite being really simple and quick to prepare, it is a delectable side dish with rich flavours. You may also prepare this dish for tiffin. It is loved by people of all age groups.
#Misalpav: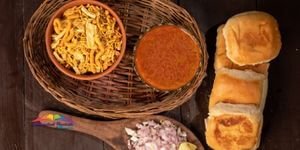 One of the most well-known Maharashtrian breakfast, snack, or brunch dishes is Misal Pav, which is distinctively from Pune. It is a common form of street food in Mumbai. It comes with Pav bread and a moth bean-based, spicy and sour lentil curry. It may occasionally be eaten with yoghurt to tone down the spice. Despite being a breakfast meal, Maharashtrians eat it at any hour of the day. Misal comes in many varieties, some of which are extremely spicy, including Puneri Missal which is topped with poha, Kolhapuri Misal, Nagpuri missal and Mumbai Missal.
#Modak:
One of the most popular sweets in Maharashtra is called modak, and it is widely consumed throughout the state on Ganesh Chaturthi. A modak's inner portion has a delicious filling composed of freshly grated coconut and jaggery, while its soft outer shell is constructed of rice flour. Modaks come in many different varieties now, including Kesari modak, motichoor modak, dark chocolate modak, dried fruit modak, paneer modak and many more. Ganpati really adores this confection, and for good reason.
#RagdaPattice:
One must never miss out on Maharashtra's delectable street cuisine, especially the well-known Ragda Patties, or as the locals prefer to call it, Ragda "pattice" (a localised form of the English "patties"). It is another mouthwatering street snack in Mumbai made from curried dry peas and patties. These potato patties are topped with chaat chutneys, cilantro, tomatoes, onions that have been coarsely diced, and crispy sev after being dipped in Ragda gravy. The dish is frequently offered in all Maharashtra restaurants and plays a significant role in the region's street food as well.
#BharliVangi:
This is a common way to prepare brinjals or baby brinjals that have been stuffed with coconut, jaggery, onion and goda masala from Maharashtra. Nobody has ever said that brinjal is their favourite vegetable. But this Maharashtrian cuisine has the power to breathe new life into this monotonous vegetable. The brinjal benefits greatly from the combination of these components.
#Shrikhand:
Shrikhand, a type of sweet yoghurt dish that is flavorful with saffron and cardamom powder, is popular at weddings and during the Dussehra festival. It is another well-known Maharashtrian culinary item that is typically served with sizzling, hot puris.
#Poha:
Every Maharashtrian loves this flattened rice snack, which is typically served with tea. Poha is an extremely adaptable Maharashtrian cuisine that can be made in a variety of ways. The most popular variation uses onions and is called Kanda poha. Other variations of poha include batata poha, which is made with diced potatoes, dadpe pohe, which is made with fresh coconut, ginger, green chillies, and lime juice, and kachche pohe, which is raw poha that has been tossed in a mixture of oil, salt, red chilli powder and raw onion. Whatever method you use to prepare it, poha will leave you wanting more!
#Sabudanakhichdi:
Sago, or tapioca starch, is sabudana. Khichdi basically translates to "mixing."One of the few food products that are ingested during the season of holy fasting, or "upwaas," is this unusual meal, which is a well-liked morning dish in Maharashtra food and culture or you can take it as Maharashtrian breakfast. Sago, which has a granular consistency when prepared, tastes good despite its savoury flavour.
Conclusion:
So, these are the top 10 Maharashtrian food and dishes among a huge variety of Maharashtrian cuisines. If you want to taste this Maharashtrian food or dishes, you can simply search for Maharashtrian food near me. Maharashtrian cuisine is worth your longing for if you have ever had a craving for something sweet and spicy that can make your heart skip a beat.
FAQs:
Q. What is the famous traditional food of Maharashtra?
A. The most often consumed varieties are pav bhaji, missal pav, vada pav and bhaji. Sabudana khichadi, upma, pohe, sheera, and panipuri are some of the most traditional foods.
Q. What is the famous sweet of Maharashtra?
A. A traditional sweet dish from Maharashtra, Karanji is frequently cooked for Diwali. During the joyous event, deep-fried plain flour shells filled with a sweet and juicy filling of coconut, spices, semolina and nuts are eaten.
Q. What is the famous breakfast of Maharashtra?
A. Most Maharashtrian homes serve spicy Kanda-Poha for breakfast, which is made by combining roasted peanuts and boiled or fried potatoes. Lemon juice and grated fresh coconut as garnishes enhance the dish's flavour. Maharashtrians do not believe in throwing away home-cooked meals.
Read More Information About Food:
Top 10 traditional Indian food and Dishes
Pancakes: have a batter/better day | How many types of pancakes
Best Hotels in Shimla during Summer Season
Enjoy Your Holiday In Shimla With Exclusive Stay & Wonderful Food