Varanasi is a city. Varanasi is also known as Benares or Kashi. It is a religious place. Benares is one of the oldest cities this city is so popular just because of its ghats, temple. There are 84 ghats, and 2,000 temples including the Kashi Vishwanath temple.
Banaras is situated on the banks of the river Ganges in Uttar Pradesh. When you want to see the beauty of Banaras so you should set on the ghat in the evening time during Ganga Aarti. Banaras are those places where people forget all their pain, grievances, and tensions. And they exult in devotion. They feel that they are free to their laboriously.
When I talk about the people of Banaras. So, the people of Banaras talk with love and peacefully. Mostly people are happy to save god. They are very punctual. Some people pay their respect to Lord Shiva by their worship.
Banarasi Paan
In the Great city of Banaras, the best thing here is [ popular Paan]. How can we forget Banaras's Paan? It is amazing. Paan in Banaras is a Symbol of love and happiness. A trip to Varanasi is incomplete without Gobbling up Banarasi paan. This paan is popular since [Mugal kaal
]. And the song has also been built over it (ookhaike k pan Banaras Wala) singer is Kishore Kumar. And Bollywood megastar Amitabh Bachchan in this song.
For making Paan the basic ingredients are Nuts, catechu (kattha) of fresh betel leaf, Tobacco, slaked lime, and other ingredients like rose petals (gulkand), silver foil, etc.
It is also healthy for our health. The leaves are full of vitamins like vitamin C, thiamine, niacin, carotene, and a great source of calcium
The children can also be gobbling up paan. There is Saada paan for children. In this paan tobacco is not included.
There are many types of paan: –
Meetha paan
Chocolate paan.
Silver paan.
Rasamalai paan.
Gold paan.
Banarasi Paan.
The famous paan's shop name is KESHAV TAMBUL PAAN BHANDAR IN KASHI. This shop is very old approximately 80 to 60 years.
The taste of this paan's shop has been tasted by great people like Atal Bihari Vajpayee, Abdul kalam, Indira Gandhi, and many leaders, celebrities. When Abdul Kalam was gobbling up this paan So he said that "waah! What a paan" "is paan m Banaras kaa rass mila hua hai".
There is Krishna Paan Bhandar it is also famous for its paan. this shop is a 120-year-old shop.
Banarasi Saree: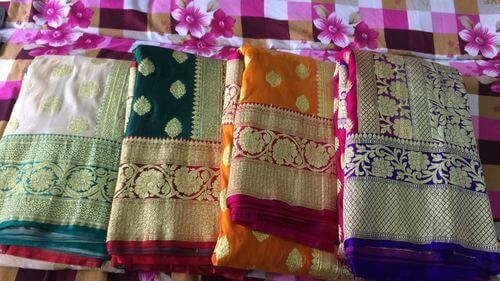 The queen of sarees is the Banarasi saree. this saree world famous because of the Gold, Zari, Silver handwork.
Pure Banarasi sarees are made from high-quality silk.
Every woman has a dream that she wears a Banarasi saree even one time in their life. The work done in making Banarasi saree is approximately 6 to7 months.
Dashashwamedh Ghat
There is a Dashashwamedh Ghat in Varanas. The Specialty of this temple that the Ganga Aarti held every evening at Dasashwamedha Ghat. This Aarti is very important for their people. Millions of people gather during Ganga Aarti. people said that Brahma Ji was done (Dasashwomat yaagy) in this temple. And also, Brahma Ji has sacrificed 10 horse.
Tulsi Manas Temple
Tulsi manas Temple. this temple has named held Ramcharitmanas. And the Specialty of this temple the Ramayan written on their wall. And the biggest specialty that month of spring held puppet performance in July and August. This performance to related to Ramayana.
This temple dedicated to Lord Rama. And tulsi manas temple completed in 1964. The tulsi manas temple is located on the bank of the tulsi ghat. As you see in this picture this temple made up of white marble and there is a beautiful garden. The great people come here. Like in 22-sep-2017 Prime Minister Narendra Modi visited the tulsi temple.
Kashi Vishwanath Temple:
One of the most famous Hindu temples is Kashi Vishwanath in Varanasi. Kashi Vishwanath temple is dedicated to lord shiva. This temple is the Varanasi's heart. And this temple dedicated to lord shiva. thousands of people tribute comes in this temple in one day. The world-famous shehnai player Bismillah khan was sit in front of the Kashi temple and he was the practice of learning shehnai.
Godowlia Market in Varanasi. Most of the tourists come here for shopping. There are many types of shops. Essential goods, décor, decorations, materials to hardware items, and clothes available in this market. This market is always crowded. People take something from here. For their memory.
Banaras Hindu University (BHU) is a central university situated in Banaras. And BHU is also a famous hospital. There is a great shiv mandir here. This temple is so clean and peaceful place.
Durga mandir
Durga temple Executed in the 18th century. This temple dedicated to the goddess Durga. A Bengali woman built this temple in Varanasi. The whole temple is painted red color. People believed that the idol of goddess Durga appeared on its own in the temple .on one kept religious importance in Hinduism. During the time of Navaratri, a large number of people visit here.
Content Writer: Khushi Dubey